Assortment
Exclusivity Included
Research has shown that half of flower bulbs are purchased on impulse. Therefore, an attractive package that fits within your shop formula is extremely important for good sales. We are able to help you choose packaging that corresponds with your image, or perhaps you would like your own exclusive line that fits within your shop display.
Please contact us for a free proposal or to order a digital catalogue.
Unfortunately, we are not able to deliver flower bulbs to consumers.
A Few Products from our Range:
Patio Collection
Our Patio Collection contains the most popular varieties from around the world allowing you to create amazing flowering pots and beautiful borders.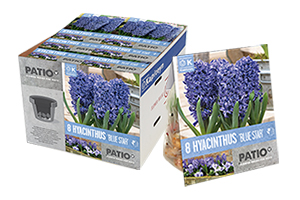 Plant O Mat Tray
The pre-planted flower bulb tray is a garden innovation at its best! Crunched for time? Don't have green thumb? These flower bulbs are ready to plant. The consumer does not need to plan out the garden; In 3 easy steps they can dig a hole, drop the tray in the garden or container and wait for spring without dirty hands!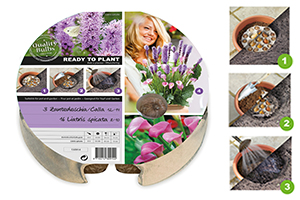 Blooms Bees & Butterflies
Great combinations that will attract wildlife to your garden